Both Chromecast and Roku Premiere are video streaming devices. Chromecast VS Roku Premiere, which streaming device is better? Read this post, you may find the answer. This post will compare four main features of Chromecast and Roku Premiere: price, streaming services, picture quality, controls.
If you're looking for a streaming media player, there are lots of excellent video streamers on the market. Here introduce two best streaming media players for you: Chromecast and Roku Premiere. Let's take a look at the key differences between Chromecast and Roku Premiere, so you could make a better choice.
Want to download your favorite videos from YouTube? Try MiniTool uTube Downloader developed by MiniTool.
Price
There are two kinds of Chromecast: Chromecast and Chromecast Ultra. The cheapest one is Chromecast which costs 35$. A Chromecast Ultra with 4k support costs $69.
Roku Premiere costs $40. The cheapest device with HD support, Roku Express, costs $25. A Roku Streaming Stick +, which adds voice remote control and 4k, comes in at $50.
You can see that Chromecast is just $5 cheaper than Roku Premiere. If you want to buy a video streamer with 4k support, Roku Premiere would save money.
Related article: How to Watch Blocked YouTube Videos – 4 Solutions
Streaming Services
Chromecast is an easy-to-use streaming media player. To stream from your smartphone to TV, just plug Chromecast into HDMI port on your TV, then you can watch movies and listen to music on TV.
This device supports over 1000 apps like YouTube, Netflix, HBO Now, Hulu, etc., so you can enjoy TV shows, songs and games as you like.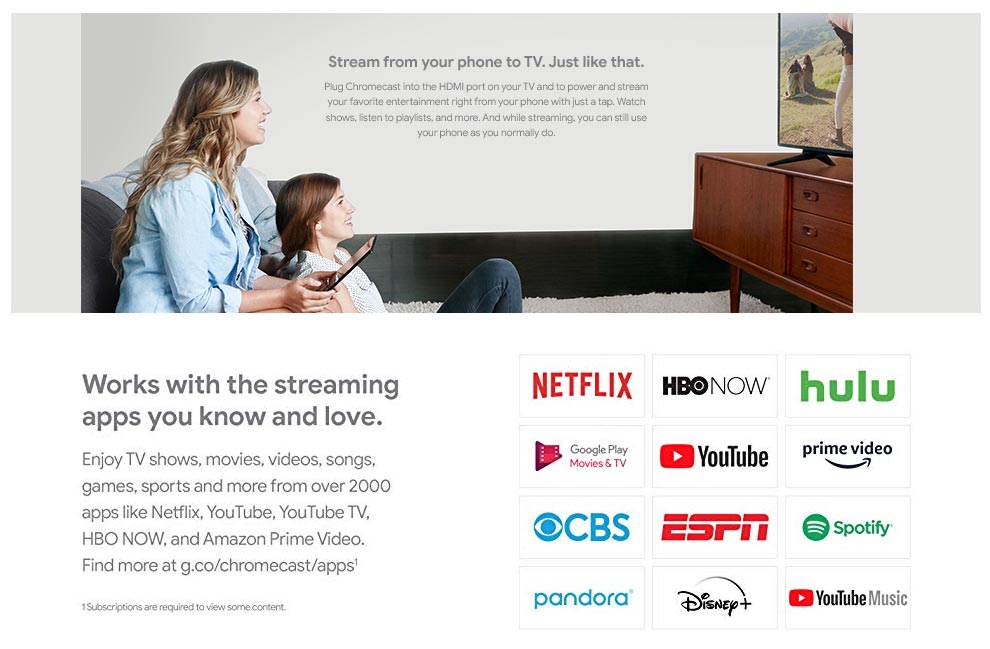 Like Chromecast, Roku Premiere streaming player also offers various streaming content including sports, over 500,000 movies and TV episodes, free TV, and live news.
Related article: Here Are the Best Video Streaming Services for 2020
Picture Quality
Chromecast offers a standard 1080p HD video. Want a better visual experience? Roku Premiere supports 4k and HDR which lets you enjoy streaming content with sharp resolution and vivid color.
Want to watch YouTube videos on Roku players? You may need this post: How to Watch YouTube TV on Roku Player – A Useful Way.
Controls
Chromecast does not come with a remote, but you can connect it with Google Home to control this video streamer by voice commands.
Roku Premiere comes with a remote, so you can find your favorite shows quickly and easily. Besides, it's compatible with voice-enabled devices featuring: Alexa and Google Assistant.
More than that, Roku Premiere offers an app for Android and iOS. With the app, you can control Roku Premiere like play, pause or rewind while you are watching shows on TV.
To learn more details about Chromecast and Roku Premiere, please take a look at this table.
| | | |
| --- | --- | --- |
| | Chromecast | Roku Premiere |
| Price | $35 | $40 |
| Picture Quality | HD | HD, 4k, HDR |
| Streaming Services | HBO Now, Hulu, Netflix, YouTube, Pandora, etc. | Hulu, Netflix, Sling TV, CBS News, Spotify and more. |
| Remote Control | No | Yes (Simple remote) |
| Controller app | iOS, Android, Chrome, Mac, Windows | iOS, Android, |
| Compatibility | Works with Google Assistant | Works with Google Assistant, Works with Alexa |
| TV Compatibility | Most HDTVs with an HDMI interface | Most HDTVs with an HDMI interface |
Conclusion
All in all, Chromecast and Roku Premiere have their own strengths. Chromecast is cheaper than Roku Premiere, while Roku Premiere has 4k and HDR support. Also, Roku Premiere has a remote, while Chromecast not. After reading this post, which one do you prefer?
If you have any questions about Chromecast VS Roku Premiere, don't forget to contact us [email protected] or leave a comment below.