Are you trying to broadcast online? Do you get the suitable live streaming software? This article from MiniTool will provide you with 5 pieces of useful live streaming software. They are the best live streaming software for YouTube you can find in the market. Get details from this post.
Live streaming is rapidly becoming an important way for people who broadcast themselves online. People can use live streaming to cover a wide range of topics. You can access educational live streams, watch people play games, and so on.
The most popular topic might be gaming, but many years ago, it was unthinkable for people to spend time on YouTube watching other people play games. One of the reasons this content category is popular is its ability to interact with users when the stream opens.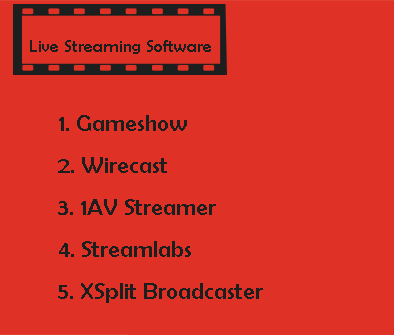 In this way, broadcasters can get immediate feedback and easily answer questions without switching between various software solutions tabs or browser. Today, many people make money by streaming games on sites like YouTube and Twitch.
Thus, how to livestream on YouTube? You need a good computer, the right streaming software and the good Internet connection to start streaming the videos on YouTube. This article will list 5 pieces of great live streaming software you can easily use on YouTube.
#1: Gameshow
Gameshow is a powerful game streaming software. You are able to record or stream games to YouTube. You can directly process games from your computer or via a USB capture device. Gameshow is suitable for professionals and beginners.
There is a free version of this program, but this version has the watermark. If you use 720p at 30FPS, a watermark will appear at the top of your video. Gameshow has a built-in auto-update feature that keeps you up to date with the latest version of the software.
Gameshow has many very good features, although it takes some time to get used to the controls. After you spend a bit of time tinkering around, you can begin to stream using templates and other modification.
#2: Wirecast
Wirecast is another best live streaming software for streaming videos on YouTube. It is perfect for live streams, sports, education, webinars, webcasts or training videos. Wirecast has a user-friendly interface and many pre-sets, so you can automate your Wirecast workflow and start broadcasting in a very short time.
#3: 1AV Streamer
1AvStreamer is a real-time video streaming server and RTMP stream broadcasting software. You are allowed to stream any video from your PC to YouTube. 1AvStreamer is designed to remove all the complicated steps so that you can start streaming as soon as possible.
#4: Streamlabs
Streamlabs is another great YouTube live streaming software. It provides a wide range of services, including custom notifications, overlays and real-time troubleshooter.
Streamlabs OBS is still in beta, but it is a full-featured option for streaming software. Streamlabs also has some other great features, such as built-in chat and a large library of free themes.
#5: XSplit Broadcaster
XSplit Broadcaster is an easy-to-use and powerful tool. You are allowed to live stream and record your screen. It's one of the best live streaming software for creating and displaying great video content on YouTube.
Bottom Line
In the past, live broadcasts were limited to local and national stations, but as technology improved, anyone could start streaming on YouTube.
In this article has offered a wide range of broadcast software options. Beginners can use free software such as OBS from Streamlabs or 1AvStreamer. If you need more customization options or better streaming video quality, you can choose the other options in this list.