As a content creator on YouTube, you may always need to add sound effects to your YouTube videos. However, where to get sound effects for YouTube videos? This post from MiniTool uTube Downloader introduces the best places to get sound effects for your YouTube videos.
Where to Get Sound Effects for YouTube Videos
Adding sound effects to your YouTube videos is a great way to engage your viewers and make your YouTube videos stand out from the crowd of YouTube content creators. Where can I find sound effects for my YouTube videos? Many YouTubers may have such a question in their mind. Here, we will go over the best places to get free sound effects for YouTube videos.
YouTube Audio Library
YouTube Audio Library is a collection of royalty-free audio tracks, such as music and audio effects, that you can use in your YouTube videos. It's YouTube Studio's native audio library, and you can access it by signing into YouTube Studio and selecting Audio Library in the left menu.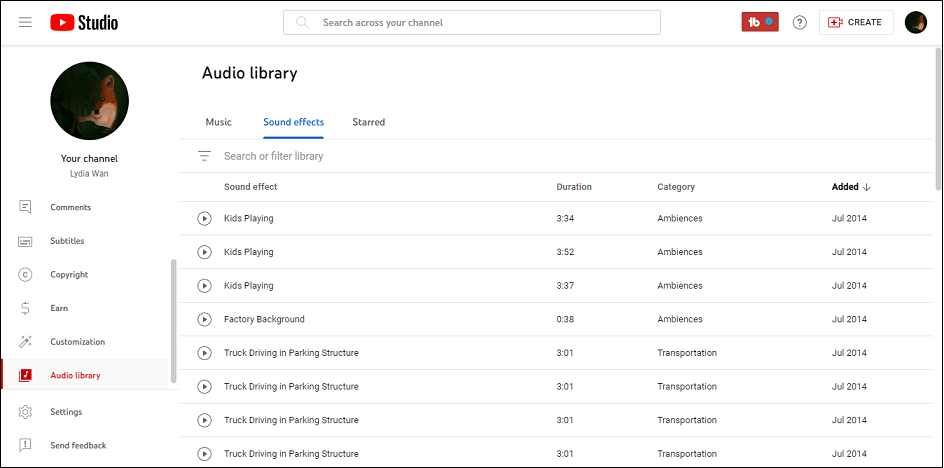 Sound effects in YouTube Audio Library are grouped into categories, like Ambiences, Cartoon, Transportation, Tools, Animals, Human voices, etc. You can favorite sound effects, so you can easily find them the next time. If you downloaded sound effects from Audio Library, you can use them as many times as you like in different projects.
Freesound
As the name suggests, Freesound is a huge database of royalty-free sound effects and other audio files. It has thousands of music and sound effects released under Creative Commons licenses for YouTube videos. The sound effects are uploaded to the site by its users and range from field recordings to synthesized sounds.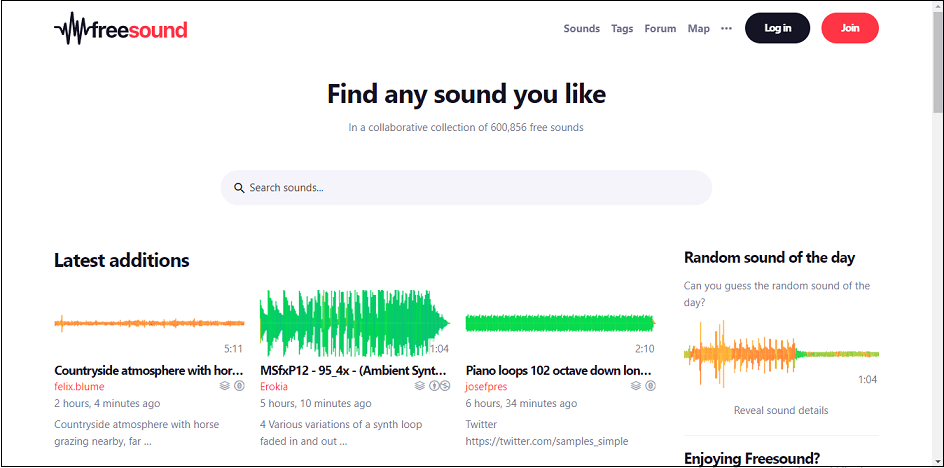 Freesound provides a new and exciting way to access these audio samples, allowing users to search for sound effects using keywords and check their ratings. You can also view additional information about the audio track, such as type, size, bit depth, and whether it is mono or stereo.
SoundBible
SoundBible is an online library containing thousands of free sound clips available for download in wav or mp3 format. This site has a search bar that you can use to find sound effects with keywords, and there is an option to request new sounds. It also makes it easy to view the license for each sound effect.
Epidemic Sound
Epidemic Sound is a global music technology company offering a wide variety of songs and sound effects. The platform has gained great popularity for its intuitive interface, high-quality music, reasonable pricing, and fast download speeds. It also allows users to search by multiple parameters, such as vibe, length, genre, and lyrics.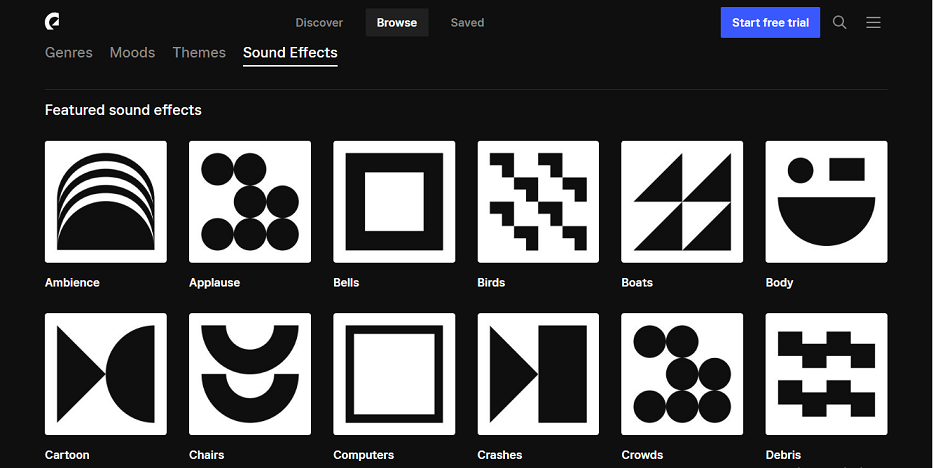 A good part of Epidemic Sound is you can also use it on your mobile device. With it, you can use royalty-free sound effects for YouTube anytime, anywhere, which is very handy for travel and photography YouTuber content creators.
FreeSFX
FreeSFX is a website that offers free sound effects that you can use in any commercial, non-commercial, broadcast multimedia, or audiovisual production. Sound effects in FreeSFX are separated into many categories, like Animals, Bells, Foley, Cartoon, Fire, Horror, Doors, and more. Just use the search bar to find the right sound effects for you.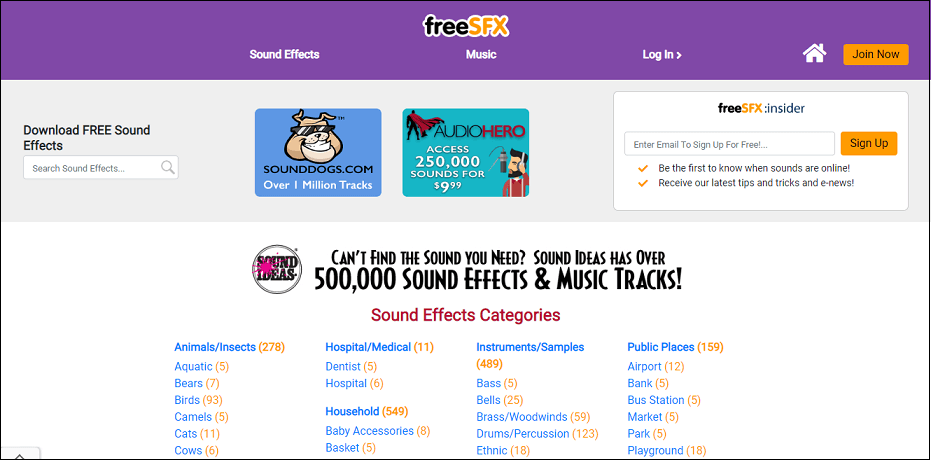 Zapsplat
Zapsplat is an online sound library offering over 124,000 stunning sound effects and over 550 royalty-free music tracks, free for commercial and non-commercial use. All of its sound effects are recorded and edited by professional field recordists and sound designers and licensed to you for use in your projects.
AudioJungle
Audiojungle, part of Envato Market, is a marketplace of thousands of musicians, designers, and developers. It has a wide collection of royalty-free sound effects available for purchase as low as $1. You can filter sound effects by category, tag, and price. You can also see the rating and number of downloads for each track.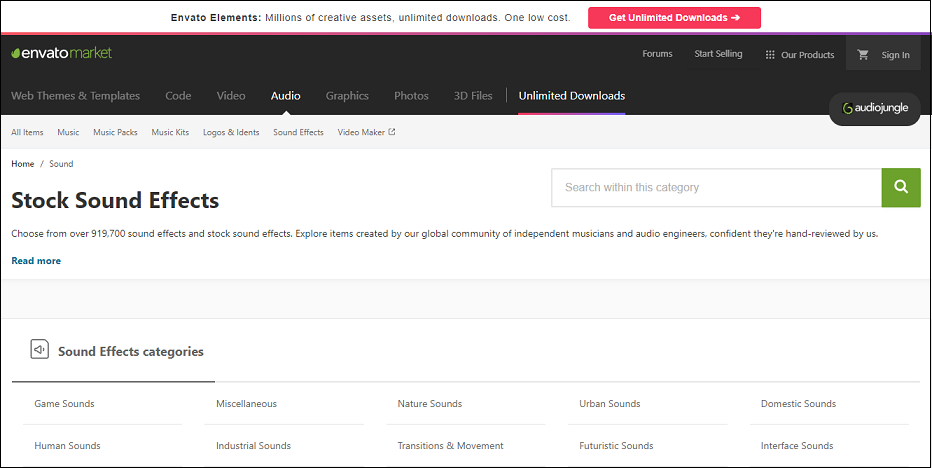 Tips:
To save your favorite videos or audio files on YouTube for offline viewing, use MiniTool uTube Downloader.
MiniTool uTube DownloaderClick to Download100%Clean & Safe
Bottom Line
If you're wondering where to get sound effects for YouTube videos, you can use one of the above 7 websites to find the perfect sound effects for enhancing your YouTube videos.