Podcast does not belong to YouTube. Podcast is audio while YouTube is all about video sharing. (Try using MiniTool software to create your own YouTube videos.) However, an increasing number of YouTube creators are trying to prove that YouTube is a podcast network.
Recently, more and more people come to YouTube to look for podcasts. A survey of Canadian adults showed that 43 percent had visited YouTube to watch podcasts in the past year. That puts YouTube ahead of Apple podcasts (34%) and Spotify (23%).
Several YouTube creators including Logan Paul, Marques Brownlee, and Emma Chamberlain launched podcasts last year. They have found out how to make podcasts on a platform that is not specifically designed for them, using YouTube's search algorithm to meet new audiences, make more money, and expand to media that are expected to grow rapidly in the coming years.
Some of the top YouTube podcasts attract millions of views every few days or weeks. Top shows, such as Ethan and Hila Klein's YouTube H3 Podcast or Joe Rogan's Joe Rogan Experience, have dedicated viewers using YouTube notifications as an RSS feed to let them know when they can watch new episodes. Although podcasts are also distributed through Spotify and Apple Podcast, YouTube is the first stop.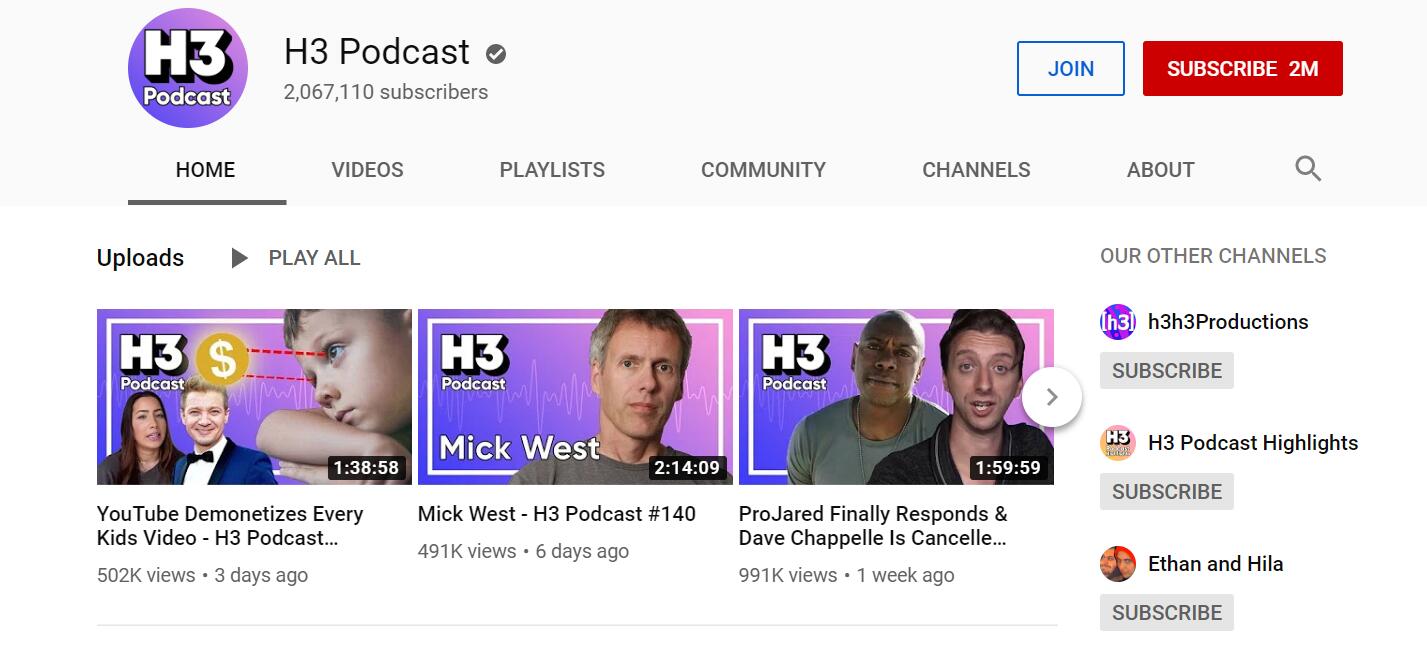 Creators know that YouTube is a valuable tool for developing and growing podcasts, but YouTube does not implement any product changes to accept the development. However, YouTube podcast is still growing at a steady and substantial rate.
Podcast vs YouTube
1. Money
Earning money on YouTube is much easier, but the CPM on a podcast is much higher.
Recommend article: How to Make Money on YouTube - 9 Highly Efficient Ways.
2. SEO
YouTube is a search engine for videos. For podcasts, you will have to find your audience somewhere else.
3. Easiness of production
Creating a YouTube video, a camera, a microphone, a video editing software, a computer and a decent place to record are necessary to prepare. For a podcast, you only need a microphone and a computer.
4. Length
When people are watching YouTube videos, the attention span is much shorter than listening to a podcast. YouTube videos are always less than 10 minutes, while podcasts may in excess of one hour.
How to Start a Podcast on YouTube?
Learning how to start a YouTube podcast can help you reach new audiences.
1. Use existing audio 
The easiest way to start a podcast on YouTube is to use the audio from your podcast, and create a video by putting some cover art on the screen. It can expand your reach, but you may sacrifice loyal fans in the process.
2. Film your podcast
You're already recording the audio of your podcast. This is a much better option than simply creating a video of cover art and can help you gain new followers. Filming your podcast is a simple way to expand your audience without a lot of extra time and effort.
3. Create supplemental videos
YouTube videos tend to do better when they're about five minutes. If you have the time, energy, and know-how, you can really expand the impact of your podcast by creating supplemental videos to accompany your podcast.
Bottom Line
Do you want to make podcasts on YouTube after reading this post? If you have any question or suggestion about YouTube podcast, please let us know via [email protected] or share it in the comments section below.