Movies, TV shows, music videos of the iTunes Store are in M4V format. So it's not compatible with most mobile devices. If you want to open M4V on any devices, change its format. In this post, you will know how to convert M4V to MP4 with video converters. To change other video formats like MKV to MP4, try MiniTool Movie Maker released by MiniTool.
What Is M4V
Developed by Apple, M4V is a video container format that contains audio and video. The M4V format is similar to the MP4 format, but it may be copy protected. This format is often used to save movies, dramas and music videos from iTunes Store and commonly used in iPod, iPhone, iTunes Store and Xbox 360.
It can be opened with Apple iTunes, Apple QuickTime Player, RealPlayer, Zoom Player and so on. However, if M4V file is FairPlay-protected, then it can only be played in Apple iTunes.
How to Convert M4V to MP4 on Mac
If you want to play an M4V file on Android device or others, M4V to MP4 converter can help you out. How to convert M4V to MP4 on Mac? Here offer 2 convenient ways.
M4V to MP4 Converter
You may find most of M4V to MP4 converters are not free. To convert M4V to MP4 for free, you can't miss the open source video transcoder – HandBrake video converter. It's free and open source. You can convert video format on different platforms like Windows, Linux and Mac.
Here's how:
Step 1. Go to the HandBrake website, download the HandBrake video converter for Mac OS and install it on your PC.
Step 2. Open this converter on your computer to access its main interface. Tap on the File button to import the target video.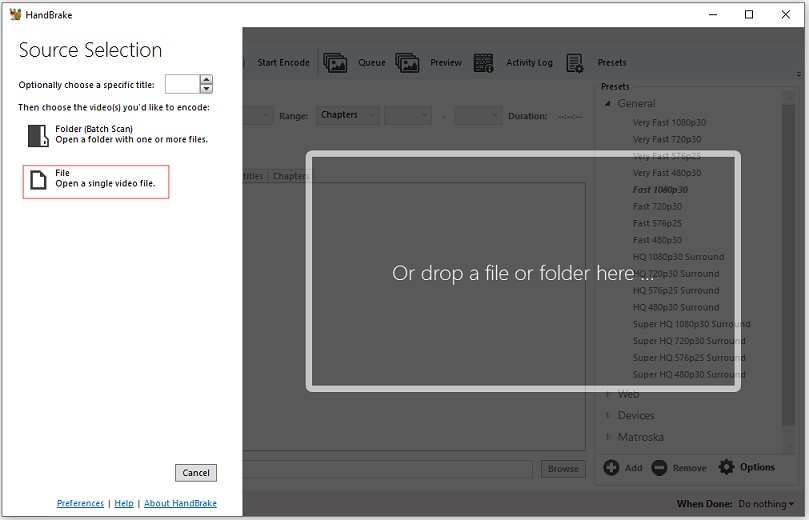 Step 3. Click the Container box and select MP4 as the output format from the drop-down list. You can also change the destination folder as you like.
Step 4. In the end, click on the Start Encode button to start the conversion.
Apart from M4V to MP4, you may also like: How to Convert MP3 to MP4 for Free.
Online M4V to MP4 Converter
If you just have a short M4V video to convert, an online M4V to MP4 converter just enough. With online video converters, you don't have to install any programs on your PC. Besides, most online video converters are free to use. The only problem is they have limitations to maximum file size or time limit.
If you have not many M4V files to convert, you can use an online M4V to MP4 converters.
Take the steps below to start converting M4V file.
Step 1. Head to CloudConvert and click the Select files to add the M4V file.
Step 2. After uploading the M4V file, it will convert the file automatically. When the conversion is done, choose Download to save the MP4 file.
After getting the MP4 file, you can edit it as you want. Read this post to learn how to edit MP4: How to Edit MP4 – All Useful Tips You Need To Know.
M4V VS MP4
Now, let's see what's the difference between M4V and MP4.
M4V only supports Apple products, while MP4 supports almost all media devices.
M4V has DRM copy protection, MP4 doesn't have copy protection.
The video coding formats of MP4 are H.264, H.265, MPEG-4, ETC. M4V's video coding format is H.264.
Conclusion
Do you have M4V files to convert? This post gives two top ways to convert M4V to MP4. Try it for free!
If you like this post, don't forget to leave a comment and share it with your friends!