There are many amazing YouTube videos uploaded every day. You may find that some YouTube videos can be used to make funny GIFs to share with others. This post shows you how to make a GIF from a YouTube video online.
How to make a GIF from a YouTube video online? The answer is extremely simple – using a professional YouTube to GIF online converter. However, most online tools don't support editing GIFs, so you might need MiniTool MovieMaker, a professional video editor released by MiniTool.
Gifs.com
Gifs.com is the fastest way to create GIFs from YouTube, Facebook, Vimeo and other video sites.
1. Go to YouTube on your desktop, and open the video which you want to create a GIF.
2. Type gif before youtube in the URL, and hit Enter. For instance, if the URL is "www.youtube.com/watch?v=2svOtXaD3gg", change it into www.gif youtube.com/watch?v=2svOtXaD3gg".
3. Then You'll be redirected to gifs.com site, where you can choose the start time, end time, and the duration of the GIF.
4. Once you've defined all parameters, simply hit the Create GIF button.
5. Give a name and attach tags for the GIF, and then hit Next to preview it.
If you want to download the GIF in the original size, you need to sign up.
Related article: The Best Way to Convert Video to GIF (Windows, iPhone/Android)
FreeGifMaker.me
Although FreeGifMaker.me originally was designed to create GIF images, now it helps users to capture some moments while watching YouTube online videos.
Open freegifmaker.me/youtube-to-gif/ on your browser.
Copy the YouTube URL and paste it to the blank field.
Click Load YouTube video and wait a moment.
Enter start time, end time and gif duration.
Click Make a GIF button.
Makeagif
Makeagif is probably one of the most popular tools for creating GIF images.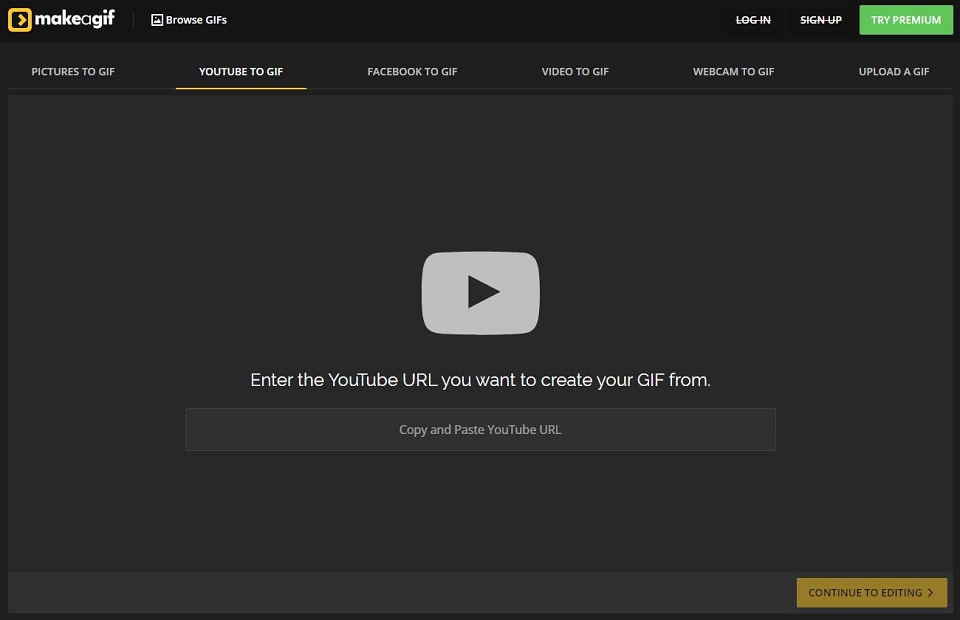 Enter your YouTube video's URL in the blank box provided, and then click the yellow CONTINUE TO EDITING button or just hit Enter.
Then choose the start time, length, speed, captions, stickers, and more for the GIF.
Click the yellow button in the lower-right-hand corner to start the process.
When you've finished your GIF, you can download it or post it to a social media site right from the website.
Kapwing
Kapwing is a collaborative platform for creating images, videos, and GIFs. Meanwhile, it can be used to make a GIF from YouTube.
Open kapwing.com/tools/convert-video on your browser and paste the YouTube URL that you want to convert to GIF.
Choose the GIF option in the left panel.
To make sure that the GIF comes out at a reasonable frame rate, it's recommended to clip the video to less than 10 seconds before converting to a GIF.
Tap on the Create button.
After the GIF is processed, save the GIF by clicking the Download button. You can also share the GIF directly with your friends or share on social media platforms like Facebook, Twitter and Tumblr.
Related article: How to Make GIF Video in 2020 (for Free)
Imgur
Many users use Imgur to share images, but do you know that Imgur has a free Video to GIF online tool? it is indeed a great tool.
Copy the YouTube URL that you want to convert to GIF.
Go to imgur.com/vidgif and paste the URL there.
As the video loaded, you can select the start time and end time to make the GIF. If needed, you can also add text to the GIF.
When it finishes, you can download this GIF or share it with your friends.
You might be interested in: GIF to MP4 – Convert GIF Animations to MP4 Videos
Bottom Line
How to make a GIF from a YouTube video online? The above has discussed 5 practical YouTube to GIF online converters. Which one do you prefer? If you have any questions or suggestions about it, please let us know via [email protected] or share them in the comments section below.