On your computer, after you sign in your YouTube for the first time, you can always keep the state of signed-in unless you sign it out manually. However, some of you report the YouTube keeps signing me out issue. This post will show you some methods. Besides, if you want to download YouTube videos and watch them offline, you can try MiniTool Video Converter.
Are You Bothered by YouTube Keeps Signing Me out?
YouTube keeps signing me out is not a rare issue. When you search for it on the Internet, you will find that many users are bothered by this. Here is a real case:
It's by no means permanent; if I refresh my page, it'll sign me back in again, but if I go to post a comment or upload a video, it'll give me an error message saying "I have to be signed in" to do that. I refresh the page, and I'm signed out; then, if I hit "sign in", or even just refresh the page, suddenly I'll be signed in again. I've looked elsewhere online, and while plenty of people are having problems where YouTube signs them out at random, nobody seems to be having this rediculous, off-and-on problem, and I can't seem to get through to YouTube customer support to solve it.
Are you bothered by YouTube keeps logging me out? If yes, you may ask why do I keep getting signed out of YouTube? Are there any available methods?
You come to the right place. In this post, we will show you how to get rid of the YouTube keeps signing me out issue using different methods.
How to Solve YouTube Keeps Logging Me out?
Method 1: Clear Caches and Cookies for Your Web Browser
YouTube keeps logging me out always happens when there is something wrong with your web browser settings. So, the first thing you can do is to clear view history, caches and cookies for your web browser.
If you are using Google Chrome, you can follow these steps to do the job:
Open Google Chrome.
Click the three-dot menu and then go to Settings.
Scroll down to the Privacy and security section and then click Clear browsing data.
Check the information like Browsing history, Cookies and other site data, cached images and files, etc.
Click the Clear data button to delete them from your web browser.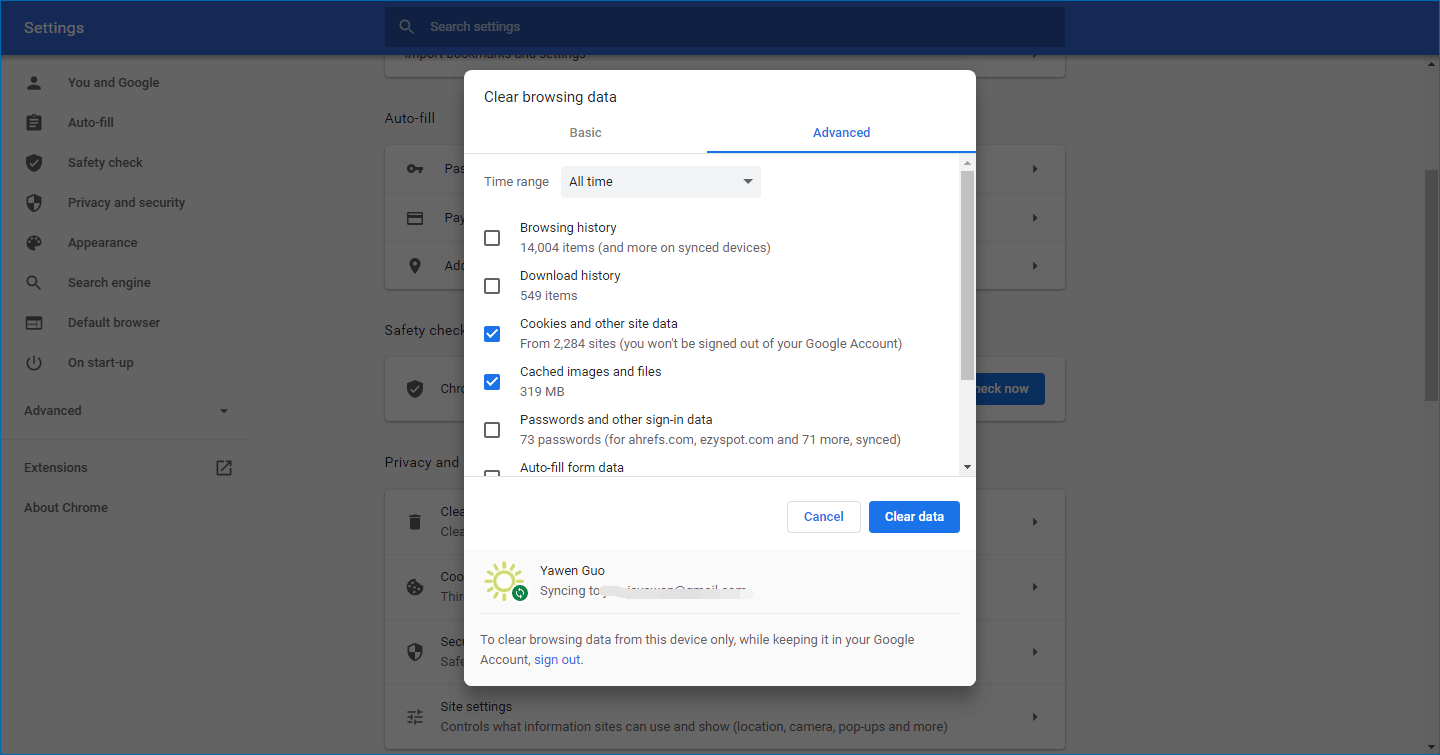 If you are using a different web browser, the steps to clear caches and cookies are different. You can try to find some methods in this post: Some Guides on How to Clear Cache on Windows 10/8/7.
Now, you can sign in with your YouTube account and then check whether the issue is solved. If the issue persists, you can try the next method.
Method 2: Disable Extensions on Your Web Browser
If you have install some extensions on your web browser, you can consider that the YouTube keeps signing me out issue is caused by the installed extensions. You can disable them to have a try.
Take Google Chrome as an example:
1. Open Google Chrome.
2. Click the three-dot menu and then go to More tools > Extensions.

3. Turn off the button for all extensions.

These are the two methods to fix YouTube keeps signing me out. We hope they can solve your issue.
Want to Download YouTube Videos?
If you want to download YouTube videos, you can use the free YouTube video downloader: MiniTool Video Converter. This software can help you download YouTube videos to MP4, MP3, Wav, and WebM with different video resolutions. You can press the following button to get this software.
MiniTool Video ConverterClick to Download100%Clean & Safe
Should you have any related issues, you can let us know in the comment.