This post from MiniTool uTube Downloader has collected a list of the best chemistry YouTube channels. These channels can help you learn chemistry more interestingly and effectively and provide you with useful tips and methods to better understand the subject.
YouTube is no longer just for entertainment. Distinguished experts from various fields of natural sciences come forward to help students in need and promote science education in society.
In addition to simplifying complex concepts, many YouTube channels aim to capture the interest of bright young minds by introducing them to the most amazing discoveries in science.
Here are the top chemistry YouTube channels for any chemistry enthusiast. You won't regret it!
1. American Chemical Society
American Chemical Society is an organization dedicated to promoting research and education in chemistry. This is one of the best YouTube chemistry channels on our list and is highly recommended for budding chemists and professionals.
Contrary to popular belief, their channel does not contain many educational videos about chemistry. Rather, it includes content such as press releases from top chemical manufacturers and interviews with prominent chemists in the industry.
2. CEN Online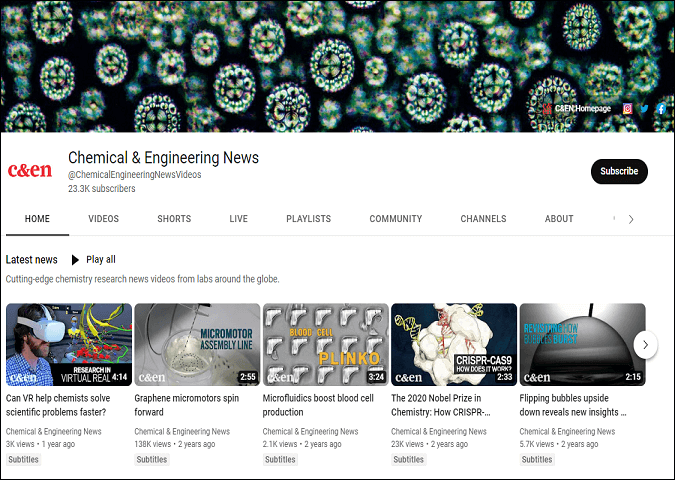 CEN Online is the official YouTube channel for a prestigious publication of the American Chemical Society, Chemical & Engineering News. It is one of the best YouTube channels for chemistry, highly recommended, and reliable.
While the American Chemical Society's YouTube channel has more interesting content, CEO Online provides the latest updates that are very useful to chemistry professionals.
3. Chemical Bouillon
Chemical Bouillon is a unique channel that unusually combines science and art. It's designed to carry out various chemical reactions and discover if they produce any new and interesting patterns!
It may sound weird, but it has become a highly regarded form of abstract art. In some ways, it reminds us that chemistry is not the boring subject that many people often think it is.
4. Tyler DeWitt
Tyler DeWitt is a high school teacher who has amassed a large following due to his ability to simplify basic concepts in advanced chemistry courses.
As one of the best chemistry YouTube channels on this list, it is ideal for those who have been struggling to understand the concepts of an AP or Intro chemistry course. It is especially suitable for high school and college students. In addition, it is beneficial for students studying for various competitive exams.
5. Periodic Videos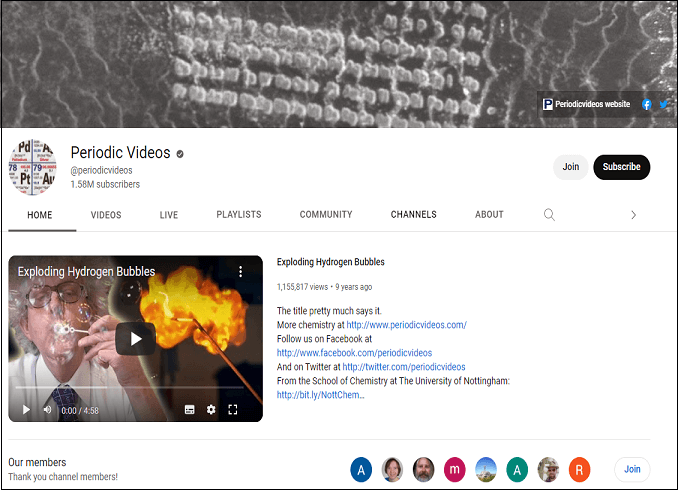 The University of Nottingham is the owner of Periodic Videos. The videos on this channel are short and easy to understand. It is primarily designed to help us understand the nature of chemistry, which is what initially sparked our interest in this field of study.
6. Leah4sci
Leah4sci is an excellent resource for students and enthusiasts of the vast subject of organic chemistry. Using top-notch tutorials, step-by-step mechanisms, and detailed explanations of each step, it illustrates complex reaction mechanisms and important organic chemistry concepts in a straightforward manner.
7. PLAY Chemistry
PLAY Chemistry is also one of the best chemistry YouTube channels on our list. Currently, the channel includes chemistry basics for high school courses and competitive exams.
It provides intriguing animated videos with well-researched and accurate chemical content. The content is updated regularly and covers a wide range of topics, arranged in order.
8. NurdRage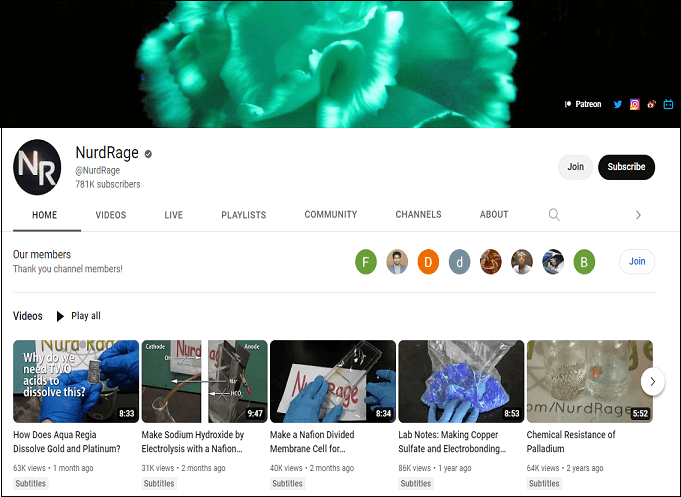 NurdRage focuses on the practical aspects of chemistry. It has received around 100 million views since it was first published in 2008.
It shows you everything from preparing glow sticks to thermite. Whether you are a chemistry expert or a novice just starting to get interested in chemistry, you will enjoy the content of this channel.
9. Explosions&Fire
Yes, this channel is named after the phenomenon that many people immediately imagine when stating the word chemistry. The content is similar, for example, showing the process of using chemical reactions to break down waste.
There is enough material here to pique the curiosity of chemists and non-chemists alike. It is also a great place to learn about this amazing scientific discipline.
Interestingly, the channel's creators take their chemistry very seriously, but not themselves.
10. Extractions&Ire
As its name implies, this channel is launched by the same people who run Explosions&Fire. It shows how to apply theoretical chemical knowledge in practice and work on practical chemical engineering. As a relatively new channel, it currently offers very little content. However, everything you watch on this channel is at the graduate level.
MiniTool uTube Downloader can help you save your favorite chemistry videos from the best chemistry YouTube channels.
MiniTool Youtube DownloaderClick to Download100%Free & Clean
Conclusion
Overall, the top chemistry YouTube channels mentioned above are quite helpful for any chemistry enthusiast. Don't miss it!